Brick Staining
Restore your property to its natural beauty and charm.
Beautiful indoor and outdoor masonry work doesn't only add gorgeous unique touches to a structure, it can also add plenty of value on the open market. If you're looking to revive and reinvigorate your brick work throughout your home or commercial building, our experts can help.
Interested in our brick staining services?
 Give us a call at (734)-437-7717 to learn more about how we can bring your vision to life!
Brick Staining Achieves Stunning Results
Our brick staining service is one of the most popular property improvement services we offer for good reason: the results are stunning. This unique process can help correct the color of masonry work and fully restore brick, block mortar, concrete, and other stone materials back to their former glory. Call now to learn more about how this unique property improvement process will help you enjoy your space for years to come.
Restore your masonry work to its natural beauty and charm.

Works with a variety of materials including brick, block, mortar, concrete, and stone.

Long-lasting results that will enhance your indoor or outdoor space.

Our expert consultation service will help you select what's right for you.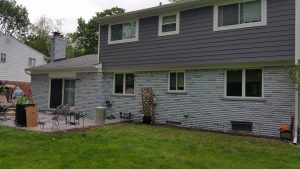 "Color concepts came and stained our brick home, and the results exceeded our expectations. The new color on the brick looks natural, with variation in the bricks. It doesn't look like painted brick. The entire color concepts team from sales to every person we saw on our job site was professional. They kept to their schedule, kept our home clean by cleaning up every day as promised, showed up the same time every day. They are a model for a professional contracting company. And the quality of their work is outstanding. I didn't have to check their work – they just did a great job without following them around after the job was completed. I highly recommend Color Concepts."